Windows Movie Maker is a free video editing software from Microsoft. With the Movie Maker, it can bring your movie to life with a soundtrack that you can edit yourself. If you have many footage, you can trim it, split it, speed it up or slow it down, you can also choose a theme to express your unique style with Windows Movie Maker, you can publish it to the web like OneDrive, Facebook, Vimeo, YouTube, and Flickr so you can share it with family and friends. But Windows Movie Maker supported formats is limited. This free editing software only support WMV and AVI video well.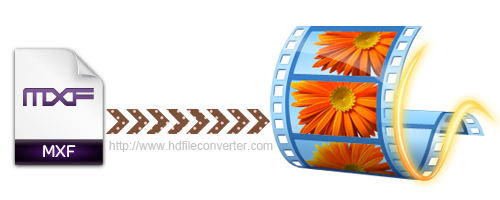 MXF is a "container" or "wrapper" format which supports a number of different streams of coded "essence", encoded in any of a variety of video and audio compression formats, together with a metadata wrapper which describes the material contained within the MXF file. However, due to MXF is a shell format, instead of a compressed format, therefore it can't be guaranteed that each one MXF file can be identified  by any kind of decoder. Because of this, some people who import their MXF footage into Windows Movie Maker on Windows 10 for editing often encounter a series of problems.
Issue on importing MXF in Windows Movie Maker on Windows 10
"I am trying to work with some MXF footage from the Canon XF100 into Windows Movie Maker on Windows 10. However, I (and apparently others) have tried the traditional importing method — and it's a no-go, it seems that Windows Movie Maker doesn't support MXF. What can I do?"
"I got a rather huge MXF footage from my Sony PMW-200 which I want to transfer them into Windows Movie Maker to make a life short video movie. But, "sound missing" when I open MXF files in Windows Movie Maker, what's wrong with it?"
"Hey, help! I upgraded my computer from Windows 8 to Windows 10 last week. Today I import my MXF recordings into Windows Movie Maker 12, but I feel it take me lots of time. Finally I failed. Is there a effective method for me to edit MXF files in Windows Movie Maker 12 smoothly."
Convert MXF footage to Windows Movie Maker best editable format
As far as we know, MXF format can't be natively supported by many professional video editing applications including Windows Movie Maker. In order to smoothly edit MXF in Windows Movie Maker on Windows 10, we need to convert MXF files to Windows Movie Maker best supported format via third-party software. Here, Acrok MXF Converter is highly recommended to you, because it is a professional video converter on the market. The MXF to Windows Movie Maker converter has native output formats for Windows Movie Maker- WMV (VC-1), so with it, you can easily transcode your MXF footage into WMV for editing directly in Windows Movie Maker without any problem.
Free download the MXF Converter
Acrok MXF Converter nearly support all the HD videos, except can help you convert your MXF footage to WMV, it also can support you import other formats like AVCHD, XAVC, XAVC S, MPEG-4, MP4, AVI, MPG, etc. into the software for converting.
Guide: How to convert and transfer MXF video in Windows Movie Maker?
Step1: Import the MXF recordings to Arock MXF Converter
Install and run the top MXF file converter, drag MXF footage to the converter directly, or you can click "Add files" button to import the MXF files.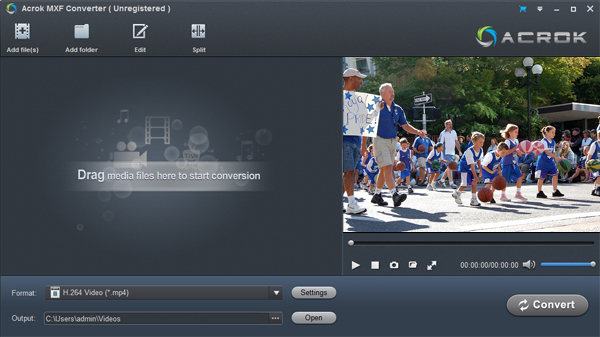 Tip: For getting 3D video, you can click "Edit" icon then add 3D effect onto loaded 4K videos. If you need to cut the video, you can click "Trim" option.
Step2: Choose WMV as best output format
Click "Format" options to select the best format. Here, Common Video > WMV3(WMV9) (*.WMV) is your best target output format.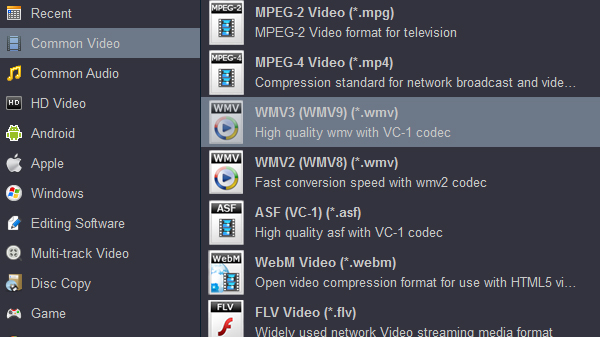 Step3: Start MXF to Windows Movie Maker conversion
Now, you can hit "Convert" button for transcoding MXF footage to Windows Movie Maker  supported formats. Once the conversion is done, you can click "open" to find out the exported footage then import the output files to Windows Movie Maker for further editing smoothly.